X-ray Vision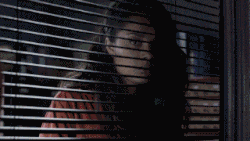 Effects
Ability to see through solid objects
X-ray Vision is the ability to see through solid objects, allowing the user to witness activity that would otherwise be hidden. Jess gained this power in the Storm
Jess could use activate this power consciously. When she did, her irises would turn a bright blue as she glanced on the subject. A circular area would form on the surface of the visual barrier, creating a "window" for Jess and allowing her to clearly see what's behind. Jess has only demonstrated using this power to see through solid objects of no particularly large thickness. It's unknown what limits (if any) her power has, however, considering she had to enter Dark Geoff's apartment in order to investigate it suggests that her power was not sufficient enough to view the entire contents of the building. The instances where Jess used her power include.
Jess' power reflects her way of seeing through others' lies, having a lack of trust and believing others to be shallow.
Ad blocker interference detected!
Wikia is a free-to-use site that makes money from advertising. We have a modified experience for viewers using ad blockers

Wikia is not accessible if you've made further modifications. Remove the custom ad blocker rule(s) and the page will load as expected.