PC Wilson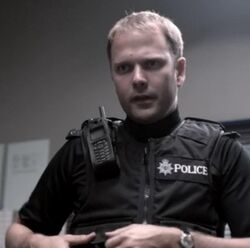 "That's five-and-a-half inches of pure pleasure! Oh, yeah!"
— PC Wilson
Police Constable Wilson was a police officer that attempted to arrest Alisha for breaching her ASBO. However, her power took hold of him and he attempted to rape her, but he was interrupted by Sally. After Alisha fled the room, he expressed his ignorance of what had just happened. He ended up leaving the Community Centre without arresting Alisha.
Ad blocker interference detected!
Wikia is a free-to-use site that makes money from advertising. We have a modified experience for viewers using ad blockers

Wikia is not accessible if you've made further modifications. Remove the custom ad blocker rule(s) and the page will load as expected.