Tim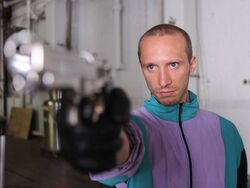 Status
Alive (imprisoned)

Tim is a highly disturbed individual who believes himself to be the main character in his favourite, excessively violent, video game. It is not outright implied that this is the result of his exposure to the storm, but considering the vividness of his hallucinations, it is highly likely. Upon meeting the Misfits, he accuses Simon (at Nathan's prompting) of being "Conti", a character from the game, and of stealing money from him. He also believes Kelly to be his ex, Roxy, another game-character. When new-comer Ollie attempts to calm him down, Tim shoots him in the head, killing him and causing the rest of the group to flee.
After this Tim spends time trying to find "Conti", engaging in several violent acts along the way, such as running over an old lady in his car, believing it is only a game. Eventually he comes across Kelly and Alisha, kidnapping Kelly and holding her hostage, telling Alisha to tell "Conti" that he wants his £100,000. While Simon and the others rob an armored vehicle in order to give Tim what he wants, Tim forces Kelly to put on a wedding dress and drink wine with him. When the group arrives and gives Tim his money, rather than ceasing in his delusions as they hoped he would, he merely progresses to the 'next level' in his mind, now believing one of them to be an under-cover cop.
Stringing them all up on meathooks, including Nikki, who accidentally teleported to the scene, he threatens Alisha with a chainsaw, only to be distracted by Nathan and Curtis, allowing Alisha to escape. Cornering her, Tim prepares to shoot her, only for Super Hoodie (Future Simon) to appear and take the bullet. When Superhoodie unmasks and claims to be the undercover cop, Tim loses interest in Alisha and goes in search of his next level objective. Afterwards, the present Simon reads in the paper that Tim has been arrested trying to break into a prison.
Tim's power reflects his addiction to video games.
Tim appears to resemble Niko Bellic from the Grand Theft Auto Series, he is also the protagonist of the video game he perceives. This can be determined from the brightly coloured nylon sweat suit which is an optional outfit in the game.