Tanya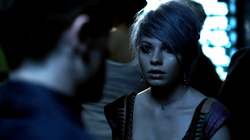 "You're fucking amazing!"
— Tanya to Simon
Tanya was a girl at a club who was the first to fall under the effect of Simon's reversed power.
After Simon's drink was spiked with a pill by Nathan's brother Jamie, his power of Invisibility reversed into Desirability, causing everyone in the club to notice him and become attracted to him. Tanya was the first person to approach Simon after the pill took effect, and requested that he dance with her.
Ad blocker interference detected!
Wikia is a free-to-use site that makes money from advertising. We have a modified experience for viewers using ad blockers

Wikia is not accessible if you've made further modifications. Remove the custom ad blocker rule(s) and the page will load as expected.