Stuart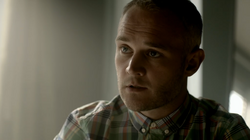 Stuart is a member of the Power Support Group and possesses the power of Closet-portation. Stuart shows his power to Finn at the support group, who suggests that he goes to Alex to help get it removed. Stuart tells Alex that his father doesn't accept who he is because of his sexuality, so Alex tells him his problem lies with his father, not his power.
In S5E5, he reveals to Finn that he is a probation worker. Later in S5E7, he attends the one-year anniversary party of the Storm at the Community Centre, where he ends up dancing with Greg (who is on ecstasy).
Alternate Timeline
Edit
In an alternate timeline created by Luke's power, Stuart began a romantic relationship with Greg.
Ad blocker interference detected!
Wikia is a free-to-use site that makes money from advertising. We have a modified experience for viewers using ad blockers

Wikia is not accessible if you've made further modifications. Remove the custom ad blocker rule(s) and the page will load as expected.