Stan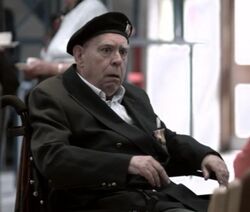 "Me mouth's as dry as a badger's chuff."
— Stan, thinking to himself
Stan was an elderly veteran at the Community Centre along the other old folk. He seems to be sleeping in his wheelchair until he is woken up by Nathan who claimed someone was going to steal his pension. Kelly decides to sit with him, but overhears his thoughts on how thirsty he is. As such, she offers him a cup of tea, much to his astonishment. Kelly later dances with him.
Ad blocker interference detected!
Wikia is a free-to-use site that makes money from advertising. We have a modified experience for viewers using ad blockers

Wikia is not accessible if you've made further modifications. Remove the custom ad blocker rule(s) and the page will load as expected.