Stacie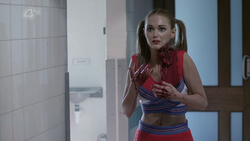 Stacie was a cheerleader who became a zombie due to the actions of Mr. Miggles. She had a huge chunk of her neck ripped open and asked Curtis, Simon and Alisha to phone an ambulance for her, however, they knew she was soon going to become a zombie, so they decide to leave it and then kill her.
Ad blocker interference detected!
Wikia is a free-to-use site that makes money from advertising. We have a modified experience for viewers using ad blockers

Wikia is not accessible if you've made further modifications. Remove the custom ad blocker rule(s) and the page will load as expected.