Seth's Store was first seen in the Christmas Special and has returned in the show multiple times since. It is where people go to sell or buy powers, the only known people to work there so far are Seth and Seth's Bodyguard. He gave his business up in Episode 8 (Series 3).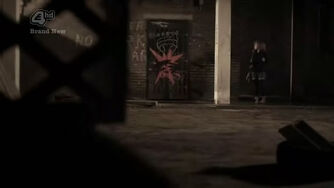 In the Show
Edit
In the Misfits Community Service App
Edit
Mentioned on Seth's Twitter Feed
Edit
A power that involved a dog getting vaporized, possibly Vaporization.
The power to defenestrate anyone in the room at any given moment. (Defenestrate means to throw someone out of a window.)
The ability to flip a mattress with your mind, possibly Telekinesis.
The power to become pregnant and give birth within one hour.
It is unknown why Seth has vaults in the back of his store, as he seems to store the powers in himself. It may be possible that he can only store a certain amount of powers at one time, so when he has a high stock he places them in one of the vaults. It is also unknown how he can keep them in a vault, as powers only seem to be able to be stored in Seth or another human being/animal. Its is possible he had several small pets which he could store powers in until they were sold.

It is more likely Seth used the vaults to store his money.