Give Me the Dick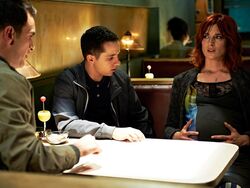 Air date
9th December 2012
Directed by
Dušan Lazarević

Give Me the Dick is the seventh episode of Series 4 and the 28th episode of Misfits overall.
Synopsis
Edit
Alex sets off on a mission to try to recover what's missing in his life, but Jess is worried about the extreme lengths he might go to. Meanwhile, a mysterious girl called Abbey arrives at the community centre. She pretends to be on community service, but ends up with an unexpected gift when she discovers that the community centre is the super-power magnet of the universe.
Ad blocker interference detected!
Wikia is a free-to-use site that makes money from advertising. We have a modified experience for viewers using ad blockers

Wikia is not accessible if you've made further modifications. Remove the custom ad blocker rule(s) and the page will load as expected.