Anal Mary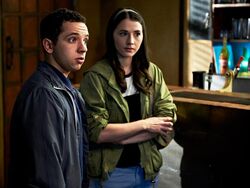 Air date
25th November 2012
Written by
Howard Overman
Directed by
Jonathan van Tulleken

Anal Mary is the fifth episode of Series 4 and the 26th episode of Misfits overall.
Finn finally tracks down his real father, only to discover that he's close to death. As he tries to build a relationship with him, Finn realises that his newly discovered half-sister might know more about their father's illness than she's letting on... Also, Finn continues his sleuthing in an attempt to win Jess' affection by discovering Alex's hidden secret.
This is the first episode to feature none of the original members of the Misfits gang. 
Despite Nathan Stewart-Jarret's name being removed from the opening credits, Curtis still appears
Curtis is metioned in this episode when Greg talks to Rudy in his office
Ad blocker interference detected!
Wikia is a free-to-use site that makes money from advertising. We have a modified experience for viewers using ad blockers

Wikia is not accessible if you've made further modifications. Remove the custom ad blocker rule(s) and the page will load as expected.