Presenter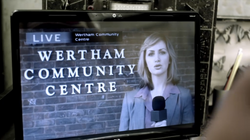 The news presenter interviewed the ASBO 5 after their powers were revealed to the public in Episode 6 (Series 2), however, she was only seen on Future Simon's laptop in Episode 3 (Series 2), after he travelled back in time.
It is unknown how Future Simon was able to obtain footage of the interview, as it never actually happened, being erased from time when Curtis used his power to save the rest of the gang from Brian, also erasing all the events of the episode.
Ad blocker interference detected!
Wikia is a free-to-use site that makes money from advertising. We have a modified experience for viewers using ad blockers

Wikia is not accessible if you've made further modifications. Remove the custom ad blocker rule(s) and the page will load as expected.