Pregnancy Transfer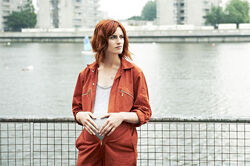 Effects
Allows the user to transfer their unborn baby into another person's body
Pregnancy Transfer allows the user to give another person their unborn baby.
Tara, a nervous pregnant woman, transfers her baby to Abby as she is scared of having a child. Abby is initially furious, but grows to love the unborn child as it makes her feel 'part of something', as Abby has no memory of who she is. Tara later regrets what she did and begs Abby to let her have the baby back, and Abby reluctantly relents, making Tara promise to bring the baby up well and not let him become a bad person.
The pregnancy transfer suggests that some of the Storm's powers may have delayed effects, as Tara was presumably not pregnant at the time of the Storm.