Neil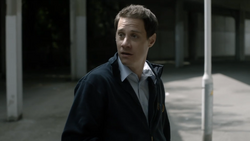 Neil was a man who was murdered by Sam in an alternate timeline for littering.
In the alternate timeline, Helen, Sam and Karen are on community service as a way of keeping their superhero identities a secret. Whilst walking around the estate, Neil throws a can on the ground and is asked to pick it up by Helen, to which he responds that it is what they are supposed to be doing. Angered by this, Sam uses his power of Flight to take Neil up in the air and drop him from a great height. He is killed on impact.
The alternate timeline is later erased, thus Neil's death never happened and he is still alive in the current timeline.
Ad blocker interference detected!
Wikia is a free-to-use site that makes money from advertising. We have a modified experience for viewers using ad blockers

Wikia is not accessible if you've made further modifications. Remove the custom ad blocker rule(s) and the page will load as expected.