Nathan Stewart-Jarrett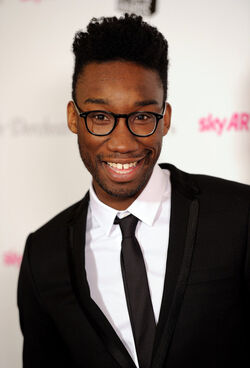 Date of Birth:
4 December 1985
Place of Birth:
Wandsworth, London, England

Nathan Stewart-Jarrett (born 4 December 1985) portrayed Curtis Donovan in Misfits, from Series 1 - Series 4.
Stewart-Jarrett made his professional stage debut playing a number of roles in 'Brixton Stories' at the Lyric, Hammersmith and has also appeared on stage in 'The History Boys' at the National Theatre and, in 2012, in the revival of 'Pitchfork Disney'. In 2009, Jarrett joined the cast of Misfits as Curtis Donovan. In 2012 he was the last remaining original Misfits cast member on the show, until he was written out during the fourth series. Jarrett also starred in the 2013 conspiracy thriller Utopia as Ian.
Ad blocker interference detected!
Wikia is a free-to-use site that makes money from advertising. We have a modified experience for viewers using ad blockers

Wikia is not accessible if you've made further modifications. Remove the custom ad blocker rule(s) and the page will load as expected.