Nathan Jr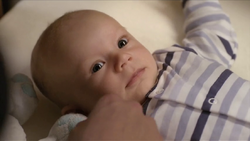 Episode count
2 (1 mini-episode)

Nathan Jr is Marnie's son. He is named after his adoptive-father, Nathan.
Biography
Edit
Nathan Jr was born at Christmas, in the Community Centre, with Nathan delivering him and the rest of the gang watching. He wasn't named right away, but by the time Marnie and Nathan took him to Las Vegas, he was already named Nathan Jr. In Vegas, Marnie forbade Nathan from swearing in front of Nathan Jr since she doesn't want his first words to be "shit or cunt."
In Episode 1 (Series 3), Alisha mentiones him by saying "Her baby is really cute, though."
Ad blocker interference detected!
Wikia is a free-to-use site that makes money from advertising. We have a modified experience for viewers using ad blockers

Wikia is not accessible if you've made further modifications. Remove the custom ad blocker rule(s) and the page will load as expected.