Mary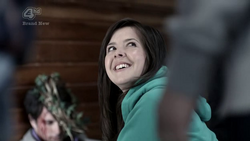 Mary was one of Elliot's followers. Elliot used Alisha's power, which he purchased from Seth on Mary and sexually abused her. When he was killed, she suddenly was convinced that Jesus had sacrificed himself a second time, since he laid dead with his head bleeding and with a Christmas wreath that fell there by accident. Kelly, tired of all the dogma, then confirmed that he was just "a dickhead with a few superpowers", however, despite believing in all of Elliot's lies, she remarked "you expect me to believe that?"
Ad blocker interference detected!
Wikia is a free-to-use site that makes money from advertising. We have a modified experience for viewers using ad blockers

Wikia is not accessible if you've made further modifications. Remove the custom ad blocker rule(s) and the page will load as expected.