Laura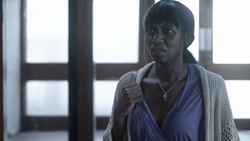 Laura was the fourth probation worker to The Misfits Gang, and the shortest-lived.
Biography
Edit
Laura was sent by the Wertham council to replace the former probation worker, Shaun, who was missing (Shaun had been killed by Jen in Kelly's body). On her first day, Laura arrived at the Community Centre to rampaging Zombie cheerleaders and bloody corpses everywhere, and lived only long enough to announce her arrival and name before having her throat mauled by one of the cheerleaders. It was left to Rudy to kill her before she became a zombie.
Her position was then filled by the final probation worker, Greg Adley.
"I'm the new probation worker." - Laura's first words.
"Jesus, she bit me!" - Laura's final words.
Ad blocker interference detected!
Wikia is a free-to-use site that makes money from advertising. We have a modified experience for viewers using ad blockers

Wikia is not accessible if you've made further modifications. Remove the custom ad blocker rule(s) and the page will load as expected.