Jodi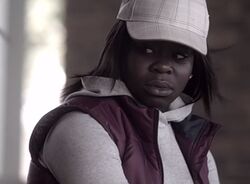 Jodi is the reason behind why Kelly was given community service after an incident whereby she called Kelly a 'slag' and Kelly hit her in response. During Kelly's community service, her probation worker Sally arranges that the two girls settle things at a meeting. During the meeting, Kelly attempts to get some common ground by insulting Jodi's recently ex-boyfriend Darren. However, Jodi get's offended and protests. Kelly knocks over her cap and Jodie slaps her. Kelly then headbutts her and Jodi uses her power to make Kelly bald before being driven out of the Community Centre.
The girls eventually call truce when Jodi is revealed to suffer from alopecia herself and uncontrollably triggers her power whenever she sees Darren.
Jodi's power reflects her desire for other people to understand how she feels about her alopecia.
She said when her father abandoned her, she became stressed. This is how she got alopecia.