Jenna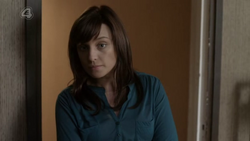 Jenna was Amy's girlfriend. She caught Amy with Rudy who was trying to seduce her and starting boasting about them having sex at Jo's party. To stop him, Amy confirmed that they just kissed, however, this was enough to make Jenna leave, convinced that Amy may really not have stopped her interest in men. According to Jenna, this was not the first time Amy had cheated on her with a man.
Ad blocker interference detected!
Wikia is a free-to-use site that makes money from advertising. We have a modified experience for viewers using ad blockers

Wikia is not accessible if you've made further modifications. Remove the custom ad blocker rule(s) and the page will load as expected.