James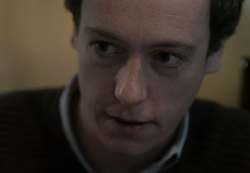 James was a man who, bored from his unexciting life and job at an office desk, bought the power of One-Way Time Travel from Seth.
In order to get the power so that Simon could go back in time, Kelly seduces him at a bar where he claims he will go back in time to become a pirate to which Kelly claims she always wanted to have sex with. When walking outside, James is forced into giving his power back with Kelly mocking her previous statement, saying no one wants to sleep with a pirate which James then answers "Pirates get laid all the time".
Ad blocker interference detected!
Wikia is a free-to-use site that makes money from advertising. We have a modified experience for viewers using ad blockers

Wikia is not accessible if you've made further modifications. Remove the custom ad blocker rule(s) and the page will load as expected.