Iggy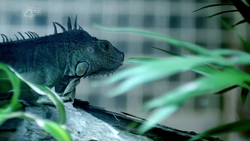 Iggy was Seth's pet iguana. Kelly told Seth to never let anyone use the Time Reversal power again, after an old man used it and accidentally created a Nazi-ruled alternate world, so he put it in Iggy. However, When Seth's ex-girlfriend, Shannon, was resurrected as a zombie, she killed Iggy and sucked all of the blood out of him when Seth wasn't around. When Simon needed the Time Reversal power to go back and become Superhoodie, Seth explained that the power had been destroyed when Shannon ate Iggy.
Ad blocker interference detected!
Wikia is a free-to-use site that makes money from advertising. We have a modified experience for viewers using ad blockers

Wikia is not accessible if you've made further modifications. Remove the custom ad blocker rule(s) and the page will load as expected.