Episode 2 (Series 3)
Comments

2
469pages on
this wiki
Episode 2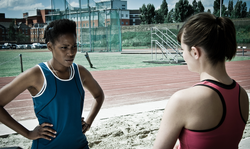 Air date
6th November 2011
Written by
Howard Overman
Directed by
Wayne Che Yip
and Alex Garcia Lopez

Episode 2 is the second episode of Series 3 and the 15th episode of Misfits overall.
The episode primarily focuses on Curtis Donovan and his new power.
Curtis uses his new gender-swap power so that he can compete again in the sport of atheltics. There ends up being a complication when Curtis falls for Emma , one of the other athletes.Curtis can't tell Emma the truth about his real identity. A predatory figure ends up turning his advances towards the female Curtis.
Unknown