Dom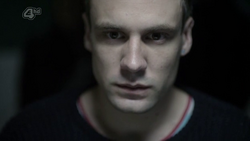 Dom is the boyfriend of the Coma patient Jen. He struggles with her condition. After Jen swaps bodies with Kelly, she visits Dom telling him that she is Jen. He feels guilty because Kelly is now comatose. He leaves Jen after she threatens to switch of Kelly's life support machine. Dom says a last goodbye after Jen switches back and turns off the life support machine.

He had lived in a flat with Jen before she had gone into her coma.
Ad blocker interference detected!
Wikia is a free-to-use site that makes money from advertising. We have a modified experience for viewers using ad blockers

Wikia is not accessible if you've made further modifications. Remove the custom ad blocker rule(s) and the page will load as expected.