Charlotte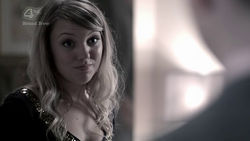 Portrayed by
Sydney Stevenson
Episode count
{{{count}}}
Charlotte was a woman who drank her coffee at Brian's cafeteria. Brian had a crush on her but she didn't notice him, until he got his power and became famous. After more people went public with their powers, she wasn't interested in Brian anymore, and as a result he killed her. She was his first victim, since he killed more and more people later on. Her death was undone by Curtis, who went back in time and stopped him from killing all those people.
Ad blocker interference detected!
Wikia is a free-to-use site that makes money from advertising. We have a modified experience for viewers using ad blockers

Wikia is not accessible if you've made further modifications. Remove the custom ad blocker rule(s) and the page will load as expected.