Charlie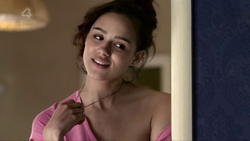 Charlie begins community service alongside Rudy, during which time they became lovers briefly. She also witnesses his power later on while at the bar with the rest of the community service gang. Tanya, who also began her community service alongside Rudy, interrupts Rudy and Charlie as they are about to have sex in the community service locker room. Tanya then uses her power to immobilize and stab Charlie before placing the knife in Rudy's hand. Charlie dies in Rudy's arms and is later buried by the gang, alongside Tanya.
Rudy often commented on his liking for her preference to anal sex.
Ad blocker interference detected!
Wikia is a free-to-use site that makes money from advertising. We have a modified experience for viewers using ad blockers

Wikia is not accessible if you've made further modifications. Remove the custom ad blocker rule(s) and the page will load as expected.