Carly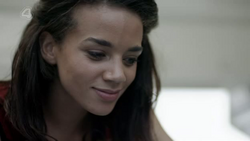 Carly was a girl who worked in an ice cream van near the Misfits estate and served Rudy, Curtis and Melissa in Episode 6 (Series 3). Curtis and Rudy were attracted to her as soon as they saw her, however, mid-way through getting their ice cream Curtis uncontrollably switched into Melissa, leaving Carly confused as to where Curtis went.
Ad blocker interference detected!
Wikia is a free-to-use site that makes money from advertising. We have a modified experience for viewers using ad blockers

Wikia is not accessible if you've made further modifications. Remove the custom ad blocker rule(s) and the page will load as expected.