Body Hijacking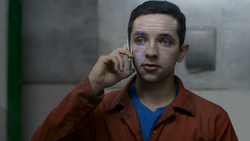 Effects
The power to take control of an individual's body with the user's own mind using a technological device.
Body Hijacking is the power to take control of someone's body and mind through the use of technology, such as a mobile phone.
Characters
Edit
Leah is the only character who has displayed this power.
She used it to possess Debbie, Finn and Alex. This power is one half of Leah's power the other is Virtual Reality Construction.
Similar Powers
Edit
Body Swap - The power to swap bodies with those you come into physical contact with.
This power reflects her highly advanced technological skills and her desire to meet people without leaving her apartment.
Ad blocker interference detected!
Wikia is a free-to-use site that makes money from advertising. We have a modified experience for viewers using ad blockers

Wikia is not accessible if you've made further modifications. Remove the custom ad blocker rule(s) and the page will load as expected.