Ben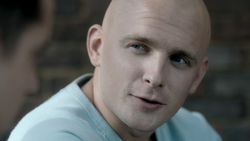 Ben was a man who shaved all of his hair off and faked having a terminal illness as a method of getting women to like him and/or have sex with him. Ben advised Finn that this was a great technique that was guaranteed to work, prompting Finn to try it himself.
Ben is later stopped by Lucas in the Community Centre toilets, where Lucas asks him to hold him as it makes him "feel alive." Ben agrees to do so, however, Lucas uses his power to drain the life from him. Ben becomes extremely depressed and tells Finn that he has lost the will to live anymore.
He later breaks down crying in the toilets, then casually walks up to the roof of the Community Centre and walks off of the edge, killing himself.