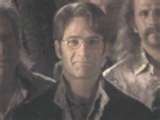 Adrian Rawlins (born 27 March 1958; Stoke-on-Trent, Staffordshire, England) portrayed Dave during Episode 5 (Series 2). He is probably best known for portraying Arthur Kidd in The Woman in Black and James Potter, the father of Harry Potter, in the Harry Potter film series.
Ad blocker interference detected!
Wikia is a free-to-use site that makes money from advertising. We have a modified experience for viewers using ad blockers

Wikia is not accessible if you've made further modifications. Remove the custom ad blocker rule(s) and the page will load as expected.